Payment cards for individuals
Credit Card Smart
Credit limit up to 100 thousands lei.
Credit Card with grace period up to 50 days.
Visa Gold
Card Visa Gold - is an international card for VIP clients, which is issued on special terms. This card offers supplementary advantages. Supplementary advantages are: urgent card's change and cash payment in case of card's loss or theft.
Visa Classic
Card Visa Classic - the most popular card, which presets an optimal relation between costs and services, safety and convenience. This card offers some advantages, among them - possibility of booking hotel rooms, air tickets, carrying out transactions by phone, post office, Internet (in case CVC2 code is requested). Also, this card is accepted in many more places.
Social Card
Social Card - for pensions, childcare benefits, other social benefits.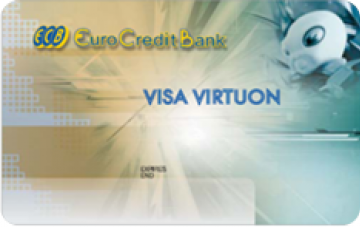 Visa Virtuon
Card Visa Virtuon - for the payment of goods and services in the Internet environment.
Card Support 24/24 h -
tel. 022 853–220
022 500-220
Currency conversion calculator: